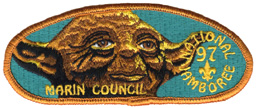 Boy Scout Troop 15
San Anselmo, California

Troop 15 was first organized in 1934. The Troop has been operating continuously since then. We are currently sponsored by American Legion Post 179 of San Anselmo and meet regularly in their log cabin. Troop 15 is part of the Marin Council of the Boy Scouts of America and serves the San Anselmo and Fairfax areas. San Anselmo is approximately 20 miles north of San Francisco.

Read The Latest News In Our Troop 15 Newsletter
Our troop has maintained a fun and busy schedule of activities which have included trips to Baja California and Scotland. Closer to home, activities have included white water rafting, spelunking, camping and hiking, just to name a few. Community service is also an important part of our activities.
Boy Scouts are for boys between the ages of 11 and 17. If you would like more information about Troop 15, or about Boy Scouts in general, please email us.
Email: Vickiendakota@cs.com
Follow this link to visit the Boy Scouts of America - Marin Council web site.
See the national Boys Scouts of America home page.

You are the [an error occurred while processing this directive] person to visit this site.