Max Friedman operated the property as the Marin Town and Country Club, a first class public recreational resort from 1944 until the end of its 1972 season. The property consisted of some 32 plus acres. The 26 on the south side of the creek comprised the glen. On the glen were situated the former restaurant building, (once operated by the Pastoris but used during the Emporium era as the club house), a number of small cottages and bungalows, a barn, a large swimming pool, tennis courts and a large open field, (a section of which was used as a baseball diamond with accompanying covered bleachers.)

On the north side of the creek (currently Fair-Anselm's & Lucky), an area consisting of approximately six acres, there was a small rise consisting of Native-American shell deposits, stands of trees and the abandoned Northwestern Pacific Railroad right-of-way. At the time, the property was transferred to Max Friedman, the glen was leased to the Marin School for Boys, a private school consisting of grades one through high school.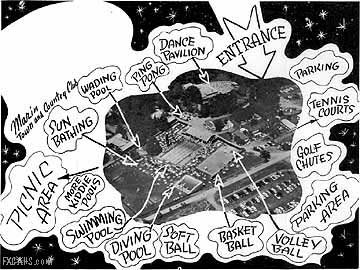 Who could ask for more in Fairfax?
The grounds were kept in pristine condition.
The cafe served hotdogs and hamburgers with all of the trimmings.

The opening of the 1946 season at the country club occurred on April 27th. The date marked the beginning of dancing under the stars in the beautiful, newly constructed "Redwood Bowl". Music for that first evening dance was played by Noel Thomas and his band. Softly colored lights and pleasant Fairfax evenings added to the pleasure of dancing at the Redwood Bowl. Over the years many of the big name bands which played the large hotels in San Francisco played at the country club. Among them were the orchestra of Ray Hackett, Skinnay Ennis, Norval Knight, Dick Dildene and Bill Clifford. The popular singing group, the Diamonds also appeared at the bowl.

Saturday evening dances were formal with some well-known bands for smooth and mellow music.
Outside view of the dance floor.
If the More button is not here...Wait! There's more.